argh! i
told
you i
told
you i
told
you! >.<


of course
i couldn't just
click click
the pages and be happy.
of course
i couldn't merely bookmark the pages.
of course
i
had
to share them so here's a flood of links to satisfy my own quirky self for the time being. in the words of mr vee...
"everything you also want. no hope liao."
>.<
i wanted a visual tracker like
HitMaps
but they're not offering new accounts anymore. so i googled.. and googled.. and came across
Visitorville
~ if only it was free...
and advancing to something a tad more geeky (although i prefer the term
nerdette
), here's a
keyboard
that allows you to
place the keys

exactly

where you want
them to be
.
proceed to
nerdette
, maximum setting, and you'll stumble across these
giant microbes
with me. i had quite a few of them to start out with but over the years, i've been a naughty li'l girl and given away such bugs like the
flu
, the
common cold
, the
stomachache
that i've previously mentioned.. and even such maladies like
mono
, the kissing disease! i've still got my ulcer tho...
*snuggle*
and for rainy days... grab your
luminescent raincoat
~ it's got electroluminescent patches that light up in response to raindrops falling on the coat itself.
*gasp*
i wish they showed a demo with the drops falling on the coat... all they've got is a pic of the coat itself with sketches. cool sketches, but just sketches nonetheless. the
inventor
of this contraption's got plenty more up his/her sleeve with a funky webby timeline design to boot.
(i'm confuzzled yet again. elise is a feminine name, yet the pic of "elise co" looks decidedly male.. am i missing something here?)
::edit::
more electronic garb ~ are you ready for a
wearable hug
? ooooo, it's enticing ~ i'd choose this over the raincoat any day!
and as an aside... have any of you
cried while eating
? or have you ever wondered what it'd look like? i stumbled on this site thru the rbj forums and sat there for the the first few moments alternating between
"

wth?!

"
and
"

bwahahahaa

"
and
o.0
and speaking of eating... have any of you tried
eating out of a toilet bowl
?
*grin*
yes.. that's my hometown.
*beams for kaohsiung*
might pay the place a visit when i go back this x'mas if it's still open ~ remind me to bring my camera!
*crawls back to the books*
ooo! i almost forgot! guess what,
guess what??
i finally

finished

my critical review of clinical practice guidelines paper!!
*throws the
c
o
n
f
e
t
t
i
*


wheeeeee
~ now i can hit the books proper
*beams*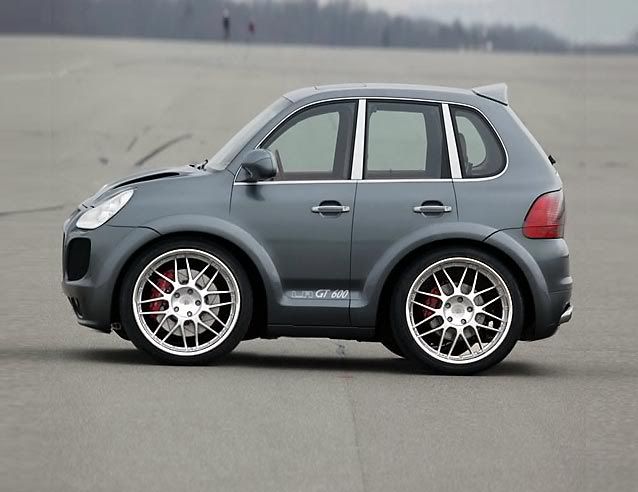 well... after i oogle at this photoshopped car. please tell me it isn't =(
as far as i know from the image name, it's a
porche cayenne
. a squished up version, not a mini like it says because the mini-cayenne is a
golf cart
. literally. it says gt 600 on the side but
that
is a gemballa gt600... so what
is
this i see then?
thank you
dkxeon
for sending over the pic >.<